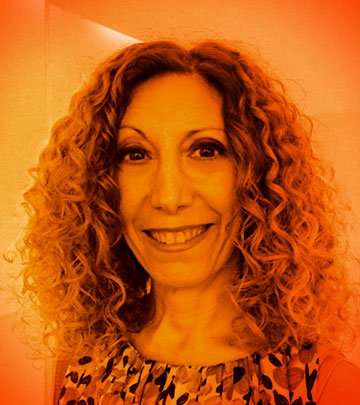 Alessandra Toscano
Founder & Patient Experience Design
Alessandra has worked in advertising and marketing since 1996.
A sociologist, with a specialisation in semiotic analysis of consumer behaviour, she started work in DDB as a copywriter subsequently became Strategic Planner and progressed to Strategic Planning Director. While in DDB she moved to the Chicago headquarters working on J&J and Novartis OTC and DTC projects.
Returning to Italy she joined McCann Erickson Healthcare as director of the OTC BU, managing clients that included: Bracco; La Praire; Guaber; GSK; Pfizer; Recordati.
In 2006 she became General Manager of inVentiv Health Communication Italy (now Syneos Health) and later CEO. There she successfully created a strong and motivated team who serviced clients that included: Angelini; Bayer; Biogen; Bionike; Boiron; Chiesi; Daiichi Sankyo; Eli Lilly; Gilead; GSK; Intermune; Ipsen; Iroko; Janssen Cilag; J&J; Mylan; Novartis; Nutricia Danone; Ratiopharm; Ratiopharm Direct; Reckitt Benckiser; Recordati; Sapio Life; Shire; Sicor (Teva group); Sigma Tau; Zambon.
In 2016 she left inVentiv Health and created Atstrat.
A pioneer of the earliest Patient Support Programmes and Patient Adherence Programmes in Italy, today she specialises in Patient Experience Design - always working in collaboration with relevant stakeholders: PAGs, Patients/Caregivers, Institutions and HCPs.
In 2020, following her experience as a caregiver in her family, she began www.pazientiprotagonisti.it (Patient Protagonists), a podcast series where she interviews people who work in patient advocacy and occasionally patients who are supported by a patient advocacy group. This is a personal project she cares deeply about because she believes in the importance of supporting NGOs and she is convinced that their work should receive greater recognition.
She also volunteers for the Italian scleroderma advocacy association, 'Gruppo Italiano Lotta alla Sclerodermia.'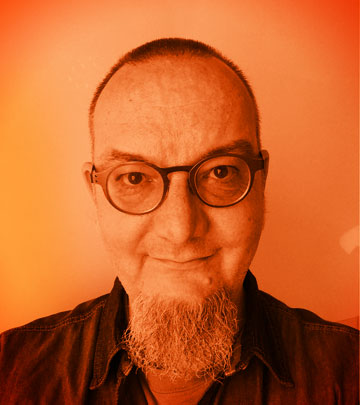 Peter John Comber
Founder & Co-Creation Expert
Peter has worked in advertising and marketing since 1983.
For the first 20 years, he worked in global and local advertising agencies in creative roles for clients including; Bacardi, Cinzano, FIAT Auto, Invicta, Kinder Ferrero, L'Oréal, SanPaolo IMI, The Bridge e Warsteiner.
In 1999, while continuing his role as Creative Director, he founded and directed as Managing Director a web agency (sold in 2004) developing digital projects for clients including; American Airlines, Caffarel, Cressi-sub, Ferrero, Gabetti, Huhtamaki, UNICRI and Versace.
In 2004, he founded, in Milan, a healthcare agency in partnership with inVentiv Health (now Syneos Health) - a leading global healthcare services corporation. Subsequently he became Chief Creative Officer inVentiv Health Europe, increasing his strategic role providing international workshops and global communications strategies for clients that included; CSL-Behring, Daiichi-Sankyo, GSK, Eli Lilly, Ipsen, Merck, Shire, Sigma Tau.
In 2014 he moved into a consulting role and in 2016 founded Atstrat.
In 2020 he wrote 'The Forces of Collaborative Creativity' which was published worldwide in October.
You can learn more about Peter from his website.